The left side of the top menu bar shows information about the room.

Hover over the room name for a dropdown menu with Room settings, Room access, and saved recordings. You can also see the room type and the room owner.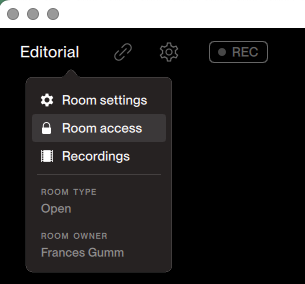 If your room is open, the link icon copies the room URL so you can share it with others:

If your room is private, the link icon will generate the room URL or a one-time temporary link for guests:

The gear icon takes you to the Room setup menu. The REC icon lets you start or stop a session recording.

The right side of the top menu bar shows information about you, and provides links to more help.

On the top right, hover over the question mark icon to access the Help Center or start a live chat session with our 24/7 customer support team.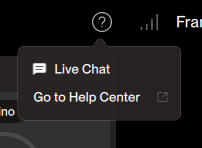 The bars icon shows information about your network connection. This can be useful if you are trying to debug connectivity issues.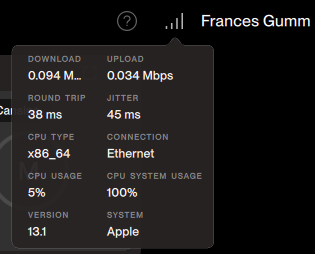 Hover over your user name to access the Device settings menu, and view your account email and device ID.