Who can use this feature?
You use the Room credits screen to assign, reassign, revoke, and return room credits for your organization. You can also purchase new room credits if all of the credits in your plan are already assigned.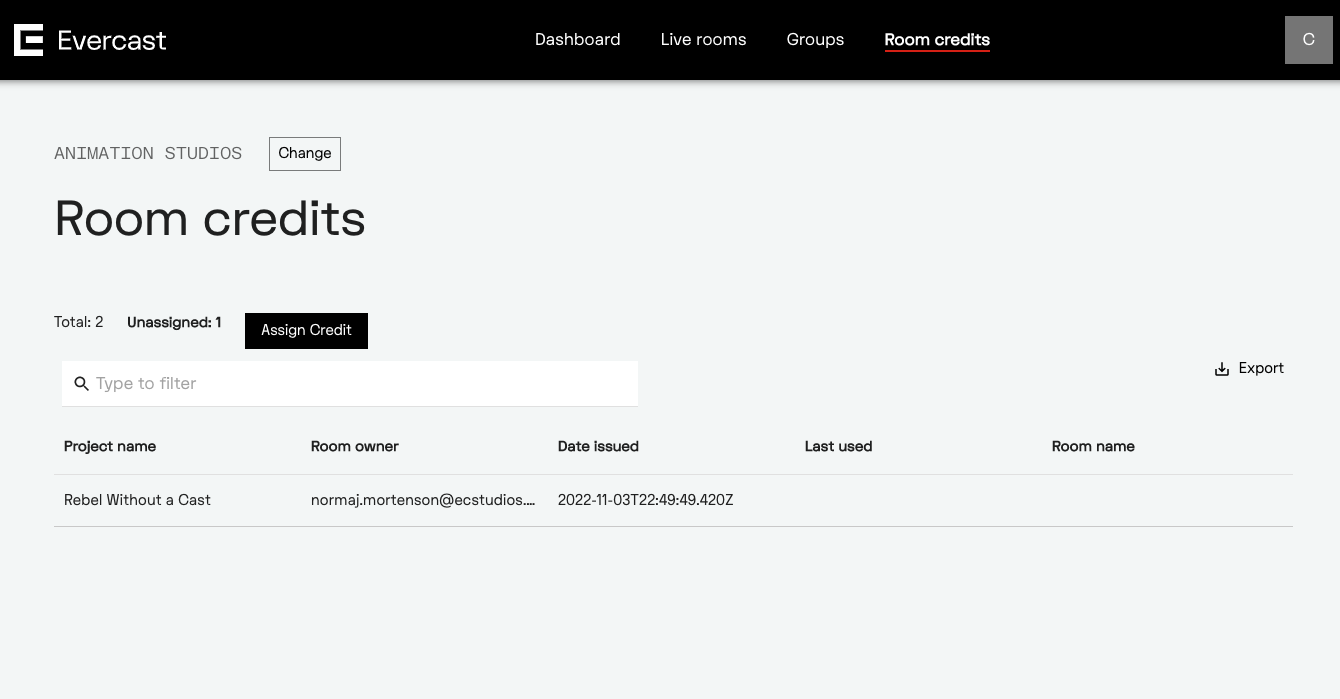 Room credits are used in the Evercast platform to create rooms. They're assigned to a room owner, who can then create a room from a credit. Room credits can be reassigned to another room owner. A room owner can also delete a room, which will make the credit available to be used again.
Your organization buys a specific number of room credits as part of your subscription to Evercast. This gives you more flexibility because instead of assigning a credit for a full billing period, you have a bank of room credits that can be assigned and reassigned to rooms. This is great, for example, when one project ends and another begins, as you can just reassign the credit to another room.
Make sure you are in the Room credits tab. In the Room credits window, you will see the total number of room credits owned by your organization, and the number of unassigned (available) credits.

To add a new room, click on the Assign Credit button.

In the Assignment window, enter the room owner's email address, and optionally a PO number and project name, and click Assign.

If all of the credits in your plan are already assigned, you can purchase more. Select the checkbox to approve the purchase.
Note
If the room owner already has an Evercast account, they'll get an email with information about the credit assignment. If they don't already have an Evercast account, they'll get an email to create an account first.
You can return a credit so that it can be reassigned at a later time. This is helpful, for example, when you want to assign the credit to a room for a production season, revoke the credit and delete the room, then assign that credit to a new room for a new production season.
Find and select the room in your list to view the Assignment window for that room.

Click Revoke. The credit now shows as an unassigned credit, and the room is deleted.
Warning
This will delete a room and any information tied to it. If you want to keep the room intact, we recommend you reassign the credit instead.
You can use this if you have any unassigned credits beyond your organization's base plan. For example, your base plan includes 15 credits. You purchased two additional credits and they are unassigned. You can return two credits.
Any refunds generated by the return will appear on your next invoice.
Click Return unassigned credits. This button only appears if there are credits that can be returned.

Select the number of credits to return.

Click Return.